MAKE YOUR APPLE WATCH YOUR HEALTH ALLY
Improve your mood, focus & sleep, reduce stress, back pain, blood pressure and insomnia. minder turns your
Apple Watch into a multi-point wearable to improve healthy posture, mindful breathing and monitor your breaks.
Real-time biofeedback coaches proper breathing and posture
Customizable feedback (visual, audio and/or tapping vibrations) to fit needs
and preferences
Access to the minder App to track and train your breathing, posture and
movements in one place
Comes with an ergonomic iPhone + Watch + AirPods charging station to
further encourage healthy posture
Compatible with Apple Watch Series 3, 4 and 5 iPhone (Apple Watch and
AirPods not included*)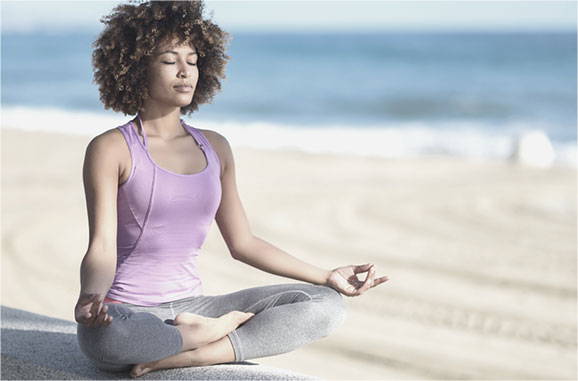 Learn to breathe properly through real-time biofeedback and visualizations.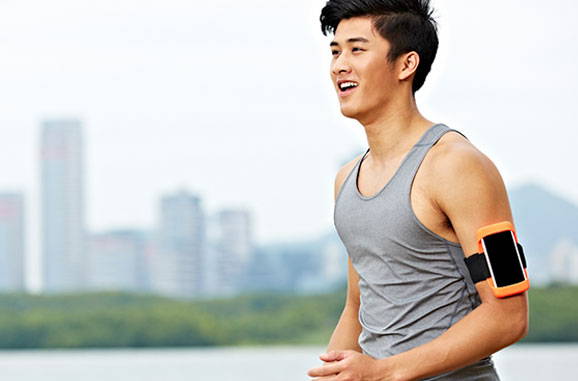 Improve your posture by conditioning your body with visual, audio and tapping vibrations.
improve your mental and physical health. minder encourages movement through ME/Mos to remind you to take breaks throughout the day.
minder pocket watch clip for Apple Watch (and bumper)
No adhesives needed. Can be worn on the back or chest (T1 or manubrium). Clip it where you want including a shirt, a belt (for breathing) a bra or even a hat.
Spring loaded hinge for clamping on clothing
Silicone bumpers for increased grip
Compact mirror view inside. Translucent glass view outside
Can be combined with necklace as a protective cover for pocket watch use.
minder necklace (and lug filler)
Can be worn on the chest or back
Adjustable to sit at or slightly above sternum manubrium or t1 as a choker for the most accurate posture and breathing tracking at the same time
minder charging stand
Keeps your iPhone in healthy ergonomic position to visually monitor your posture breathing and health
Specifically designed with designated spots to keep your Apple Watch, iPhone and AirPods and AirPods pro charged (cables not included)
Travel case
Specifically designed to protect and carry your apple watch, minder clip and necklace and Apple Watch bands when they are not in use.
- Access to the minder mobile App
- Ergonomic Accessories
minder Clip - Easy attachment to shirt, blouse, belt
minder Necklace - Comfortable chest placement
Charging Stand for iPhone, Apple Watch and AirPods
Carrying Case for Apple Watch and minder accessories
Creating your account is simple.
1.Open the App Store on your iPhone and search for "minder by obVus."
2. Select "Don't have a minder Account?" under the login button. Then select "I've already purchased minder."

3. Confirm your purchase by providing your order ID.
If you purchased on our website the order ID will be a mix of letters, numbers and hyphens. For example: ob-1045245-B.
If you ordered on Amazon the order ID will be a series of numbers and hyphens. For example: 114-5142658-1727042


Then just follow the in-app instructions and you'll be ready to start minding your posture, breath and breaks!
Using minder posture tracking
Using minder posture tracking will help create new habits towards healthy posture. Once you have connected your apple watch with the minder app you can track your posture with the minder app open or closed on your phone.
Tip: The best experience is achieved by keeping the minder app open on your phone to monitor your posture. This will provide constant live visual feedback of your posture represented by the ball. You will get immediate visual feedback as you move and easily recenter yourself into healthy posture. We recommend placing your iPhone on the provided minder stand with the minder app open once you start a tracking session. In order to have continuous visual feedback you might need to turn off the auto-lock feature on your iPhone during a posture session. This can be done through iPhone Settings -> Display & Brightness -> Auto-Lock
You can also monitor your posture with the minder app running in the background on your iPhone. You will not have the live visual feedback but can continue to receive sound and haptic alerts on your Apple Watch and/or iPhone. These alerts can be customized through settings and more information can be found [here (link to settings)].
Once you are connected and calibrated you can resize the difficulty ring to fit your comfort level. Anytime the ball goes past the difficulty ring you will receive notifications to correct back to a healthy posture.
Tip: If you are sitting in a chair you can use supported posture so you don't receive alerts when you use the back of the chair for support.
Try to stay in good posture for thirty minutes while you work and if you find yourself moving into the bad posture zone you can make adjustments as needed.
A Me/Moment or what we call "Me/Mo" are fun purposeful breaks that are opportunities for you to take a break and to mind Yourself. A Me/Mo can be anything from a breathing exercise, a meditation, drinking H2O, taking a walk and those are just a few examples. Take a Me/Mo whenever you need to by selecting the Purple "Take a Me/Mo Do it" bar at the top. Then simply select from our Me/Mo library. We have organized our Me/Mos by our 5 pillars
Mindfulness: Breathing and Meditation to improve mindfulness
Nutrition: Eat well and hydrate for better health
Movement: Move with Cardio, Strength and Stretch exercises
Sleep: Sleep better to repair and support mind and body
Habits: Create and maintain new healthier habits
The Me/Mo library has some essentials to start and we will be constantly updating and adding new ones. If you have any suggestions for a Me/Mo please send to us at support@obvus.me
Selecting the "ℹ" button on the Me/Mo tile will take you to detailed instructions and information about the Me/Mo.
Each Me/Mo will have specific settings that can be adjusted once selected.
What stats are tracked on the dashbaord?
The Dashboard shows your stats and progress. You can see your daily, weekly and monthly progress by selecting the appropriate time range. The weekly and monthly views show your average per day and do not show totals for the time period. You can view how you did on any previous day by selecting that date.
The graphs show your progress and will turn purple when you have met or exceeded your goal to give you a visual guide.
Here are the current complications available for the dashboard
Wear Time: The total duration of your sessions for the day or average per day for the week and month.
Healthy Posture %: Time spent in healthy posture vs total time tracking posture (please note total time could be different than wear time as we do not track posture during activities like calibration, taking a Me/Mo, while paused but continue to track wear time)
Healthy Posture Time: Total time spent in healthy posture for the day or average per day for the week and month.
Posture Heat Map: Shows the directional zones of your unhealthy posture to give you a map of your tendencies. The longer you are in a zone the more the zone will fill. First it will fill in yellow and then red. Here is the timing of each section

1st bar Yellow: 10 seconds total
2nd bar Yellow: 30 seconds total
3rd bar Yellow: 1 minute total
4th bar Yellow: 2 minutes total
1st bar Red: 4 minutes total
2nd bar Red: 6 minutes total
3rd bar Red: 8 minutes total
4th bar Red: 10 minutes total

Me/Mo: Number of Me/Mos completed for the day or average per day for the week and month.
Mindful Minutes: Total time of completed Me/Mos for the day or average per day for the week and month.
Stresshold: Total number of stressholds reach for the current day
Steps: The total steps for the current day (Apple Health Sync is required to get this information)
Weight: Most recent Weight measurement for the day or average for the week and month (Apple Health Sync is required to get this information).
Blood Pressure: Most recent Blood Pressure measurement for the day or average for the week and month (Apple Health Sync is required to get this information).
Resting HR: Resting HR for the day or average per day for the week and month (Apple Health Sync is required to get this information).
You can customize what fields are available and the order in Settings so that you can focus on what is important to you
obVus – Clip for Apple Watch
Technical Specifications
Finishes: Aluminum
Compatible with the following Apple Watches:
Series 3 -38mm & 42mm
Series 4 -40mm & 44mm
Series 5 -40mm & 44mm
Clip Size (without Apple Watch)
Aluminum construction
Height: 50.1mm (2.17in)
Width: 40.5mm (1.16in)
Depth: 13.5mm (0.53in)
Weight: 12.2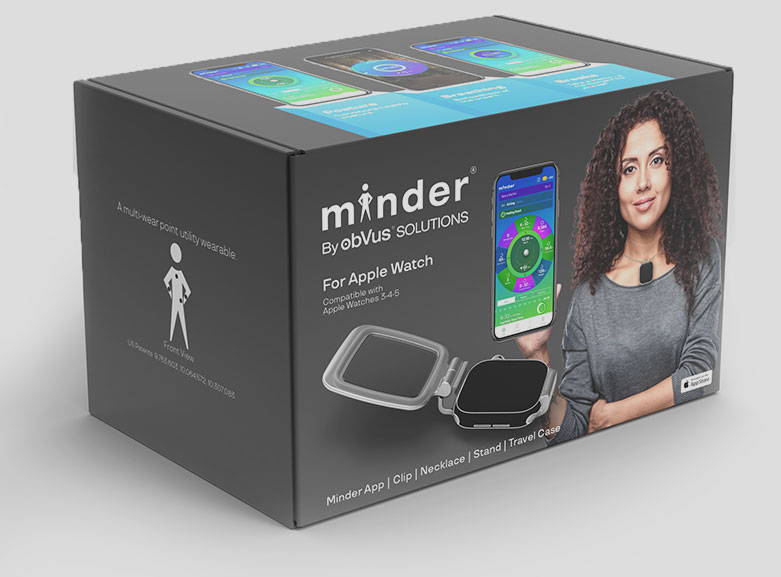 NO NEED TO BUY ANOTHER DEVICE
Apple Watch owners can use their existing Apple Watch
3, 4, or 5 to accomplish more with the device they
already own. Doesn't include an Apple Watch.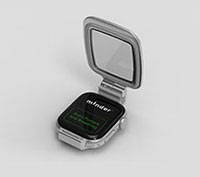 Easy attachment to shirt, blouse, belt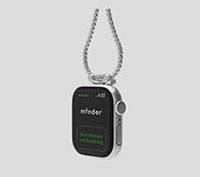 Comfortable chest placement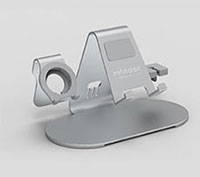 for iPhone, Apple Watch and AirPods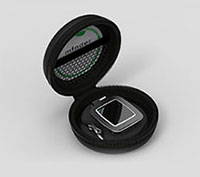 for Apple Watch and minder accessories
Plus Access to the minder App